Wide Fields Observatory
The dream of nearly every hobby astronomer is probably its own backyard observatoy. So this dream accompanied me over many years, in which I enjoyed this hobby. After my family settled down near Landsberg/Lech few years ago and the backyard of our house also still sufficiently place offered, the time had come, to let the dream come true. The first thought which came in my mind when I was thinking about an observatory was a picture of one of these wonderful white domes like the professional astronomers working with. But a quick view to the prices of such domes convinced me to look for alternatives. Thus I was looking for a suitable garden shed, which I could adapt to my astronomical requirements. In order to don't obstruct our wonderful view to the Alps to much I picked out a shed measuring 2,4m x 1,8m on the base. The following modification (concrete pillar, removable roof, foldable gable, ventilation etc.) was a lot of work but much fun too. After few weeks of intense work the observatory was nearly finished and ready to work. But a good observatory needs a good name and because our backyard borders to wide fields southward the name was quickly found: Wide Fields Observatory (WFO). It accommodates now my Celestron C8 on a modified Vixen SP mount. In addition a Zeiss C80/500 refraktor, PC and other more or less usefull accessories.
Here you can see some pictures of my backyard observatory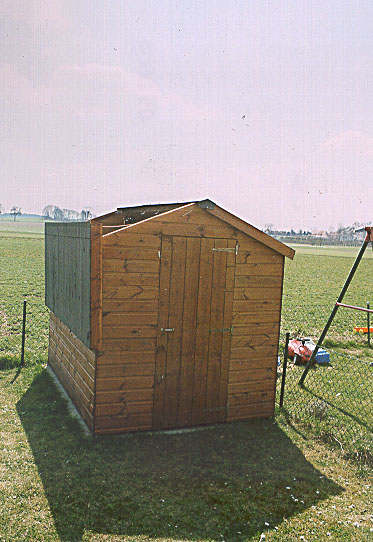 Southward view of the observatory, one half of the roof is opened.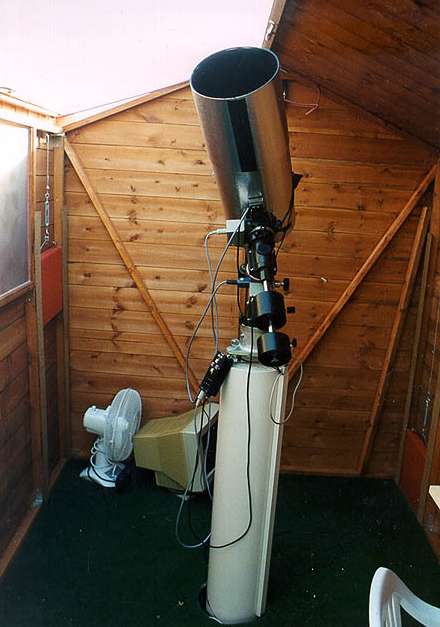 C8 and modified Vixen-SP mount on the concrete pillar. On the left side you can see one of the counterweights (concrete slab) which supports the opening of the roof.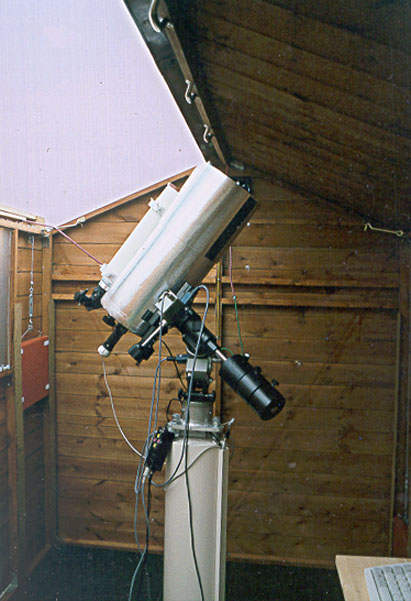 The southward gable is foldable which allows the view to objects near the horizon. In the middle of the gable you can just see the ventilator which is used for circulating the air on hot days. It is powered by a solar module on the outside of the shed.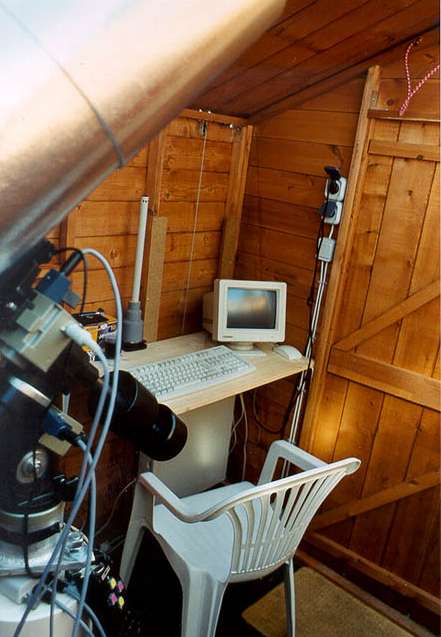 The control room ;-) Left you can see the modifications on the mount. A continous drill hole with a screw for more stability and encoders (small blue boxes) made of parts from a pc-mouse. On the pillar you can see the interface box for the digital setting circles.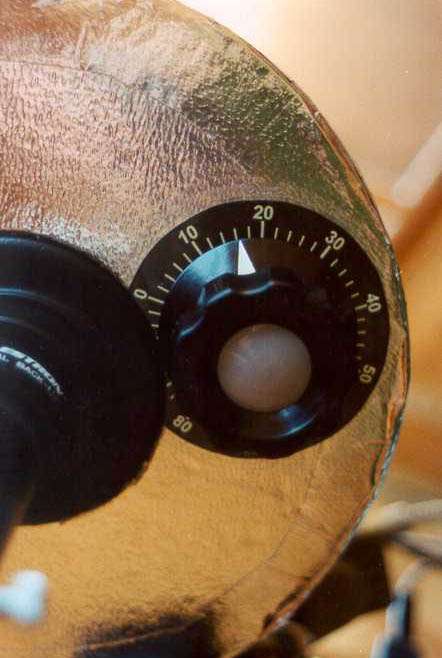 Modified focus knob of the C8. The OTA was covered with isolating material to reduce tubus seeing.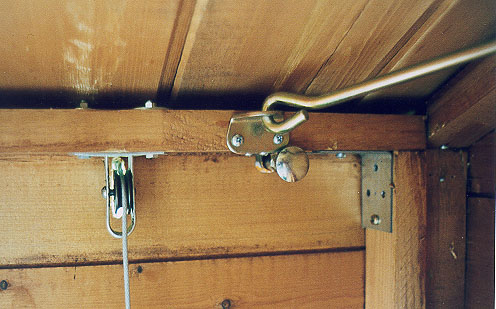 Closeup view of the pulley for the counterweight. The hook aside holds the foldable gable. The screw underneath looks the roof and is used as storm guard..